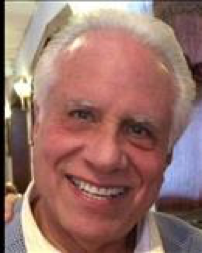 Fred was born on March 15, 1940 and passed away on April 20, 2016. He is survived by his wife, Dottie, his three children, son Corey; daughter Julie; son Jeff, and numerous grandchildren. Although Fred did not serve on the ASU Foundation Board, his contributions to the sport of speed skating impacted all involved.
While not a skater, Fred's contributions to speed skating have changed the sport for the better.  When his son, Jeff, got interested in speed skating, Fred helped organize the Highland Park Speedskating Club which operated for two years before many of its members joined the Northbrook Speedskating Club. He was drafted into officiating at a 6 a.m. Sunday practice.   "I didn't really want to get up that early but I did go that day," Fred says. "After that, I kept being asked to act as a Starter for local meets around the Midwest. I just kind of went around the circuit giving the warning, 'I don't really know what I'm doing but I will help if you need it".
Surprisingly to Fred, he was asked to officiate at the Goodwill Games in St. Petersburg, Russia. While there, he caught the notice of Ottavio Cinquanta, a representative of the ISU and later ISU president. Cinquanta put Fred on the list of ISU approved officials. Fred traveled the world officiating at ISU level short track speed skating events, including the 2002 Olympic Games.
After proving himself as a capable leader, Fred was elected to serve as the president of the Amateur Speedskating Association of Illinois where he witnessed what he believed to be unfair practices in the national speed skating governing body, USISA. He campaigned to get the open meetings act enforced for board meetings and held USISA accountable for decisions made that didn't adhere to USISA rules. Fred was instrumental in creating the 2002 merger of USISA and the Amateur Speedskating Union (ASU), resulting in the formation of US Speedskating USS).
Fred served as president of USS from 2002 until 2004. During that time his efforts focused on the goal of integrating the two organizations into one coherent, effective national governing
While still working as an active ISU official, Fred served as a member of the ISU Disciplinary Committee, held USS officials' clinics around the country and served as a board member for USS. As a lawyer practicing with the firm Benjamin & Shapiro in Chicago, Fred used his legal knowledge to ensure athletes were treated fairly and, as part of that process, helped draft the arbitration process for USS.